Watford Sexual Health Clinic
The sexual health services that are offered at our clinics can vary. Please call 0300 008 5522 to find out which services are available at your chosen location.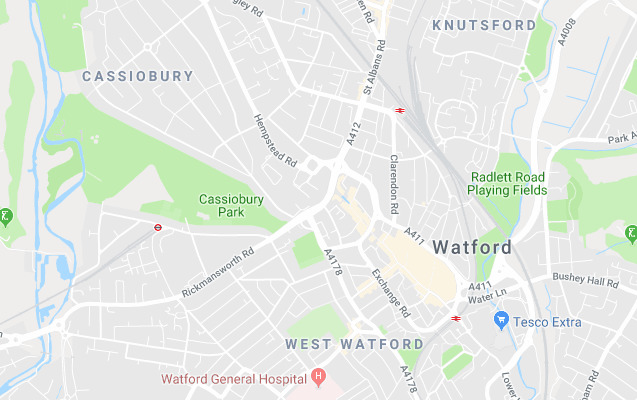 Services
Watford Clinic is now open for Appointments on Saturdays!
Information, testing and treatment for sexually transmitted infections (STIs) such as Chlamydia, Syphilis, Gonorrhoea, Trichomoniasis, Herpes, Warts, Hepatitis and HIV
Rapid HIV testing
Advice and Information
All methods of contraception (excluding the vaginal ring)
Emergency Contraception
Pregnancy Testing
Free Condoms
Post Exposure Prophylaxis (PEP)
Please note: This clinic is closed on Wednesday mornings for training.
Watford Clinic
1st Floor, The Annexe
Watford Town Hall
Hempstead Road
Watford WD17 3EX
| Day | Times | Services available |
| --- | --- | --- |
| Monday | 9.00am - 11.30am | Walk-in clinic for all ages |
| Monday | 1.00pm - 4.00pm | Appointment only |
| Monday | 5.00pm - 7.00pm | Contraception Walk-In |
| Monday | 5.00pm - 7.00pm | Appointment only |
| Tuesday | 9.00am - 11.30am | Walk-in clinic for all ages |
| Tuesday | 1.00pm - 4.00pm | Appointment only |
| Tuesday | 6.00pm - 8.00pm | Contraception only |
| Wednesday | 1.00pm - 3.00pm | Appointment only |
| Wednesday | 4.00pm - 6.30pm | Walk-in clinic for the under 25s |
| Thursday | 9.00am - 11.30am | Walk-in clinic for all ages |
| Thursday | 1.00pm - 4.00pm | Appointment only |
| Thursday (Alt Week) | 5.00pm - 7.00pm | Walk-in slots and Appointments for LGBTQ* |
| Friday | 9.00am - 3.30pm | Walk-in clinic for all ages |
| Saturday | 9.15am - 11.15am | Appointments only |